Precious Presents
Peek-A-Boo Pocket

This Peek-A-Boo Pocket is is a wonderful gift for any busy Mom and curious toddler. It is a simple double thick pocket of soft flannel double stitched with a plastic window to "peek" in and see a wide variety of colorful and educational objects to find and identify.
One reason I call it a Peek A Boo Pocket is that as the child matures, you can take out some of the stitches, change the items in the bag, re-stitch and 'TaDa', a new exciting and educational toy to explore all over again!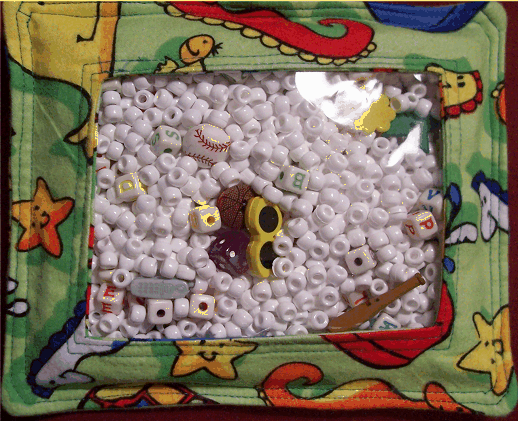 Alphabet Letters A thru Z
Purple Dice, a Key,
Brown Baseball Bat,
Yellow Flower, a Bee,
Red Heart, a Baseball,
Orange Butterfly,
Green Star, a Cell Phone,
Purple Grapes,
Red Apple, Bananas,
Basketball, a Red Car,
Yellow Sunglasses,
Red Ladybug, a Penny,
a Dime, a Nickel,
and a Quarter

This Peek-A-Boo
Pouch contains . . .

Instructions for the Peek-A-Boo Pocket

You will need the following-
1/4 of a yd. (9") of a tightly woven, soft fabric such as flannel
1/4 of clear plastic of a medium to heavy gauge for safty
2 bags (approx. 720 pcs each) of inexpensive white or opaque beads
Items for to "Find". I used alphabet beads, large buttons and small household items like keys, coins, etc. This is an excellent place to put all those small toys you are afraid to let the kids play with like Barbie shoes, plastic animals, small balls, etc. Many of these items you can find in the button section, bead section, or in the toy dept where they might have bags of small toys like farm accessories, animal, doll accessories, etc. Remember those little parts you sneak away from your children like barbie mirrors, shoe etc. This is a great place to use them saftly!
1. Take the 1/4 yard of fabric and fold it over until it is 4 layers thick. This should leave you with a square of folded fabric approx. 9" by 10" or 11". Cut off the selvages and cut through the fold until you have 4 equal squares approx. 9" by 10".
2. Take the top two squares and put the right sides together so the back sides are showing.
3. With a pencil and a ruler mark approx. 2 1/4" in from all for side until you have a square drawn on the back of the fabric.
4.Machine stitch around this square and then stitch again over the original stitching to reinforce.
5. Cut the inside of the square out leaving a 3/8" seam allowance. Your fabric should now resemble a picture frame. Clip in towards (not thru)the 4 corners.
6. Turn the fabric to the right sides by separating the fabric layers and passing one of the layers thru the opening in the center. Now you should have a picture frame again but the right side of the fabric will be showing on both sides.
7. Cut the clear plastic approx. 1" bigger on each side than the opening (2" in total bigger than the opening)
8.Pin in place behind the opening and topstitch the plastic to the fabric in two rows of stitching as shown in the picture. This creates your "Peek-A-Boo" window. Double stitching ensures no beads will escape.
9. Take the remaining two pieces of fabric with right sides out and lay against the front side of the window. Stitch in approx. 1/2" all the way around the pocket leaving 3 or 4" open on one side to insert beads and novelties. Trim corners diagonally but not too closely.
10. Make a list of the novelties that you will be putting into the pocket.
11. Turn pocket right side out and add beads and novelties through the opening.
Fold in the raw edges of the opening and topstitch the opening closed and continue topstitching all around the edges of the pocket. After you complete the first round of stitching move in approx. 1/4" and make a second row of stitching around the perimeter of the pocket. Again, the double stitching is for ultimate safety.
12. ENJOY! Your pocket is now complete and ready to occupy the busiest little one!

Warning
Do not put anything sharp into the Peek-A-Boo pocket.
Double stitch all seams and the plastic window to prevent any toys from escaping.
Use fabric heavy enough to not allow toys to pop through.
Do not use thin plastic such as plastic bags or films. You must purchase your plastic from a fabric store, or craft store to ensure it is thick enough for safty.

For little girls use
little princess items like shoes, crowns, purses, magic wands, even things from their favorite fairy tales like magic apples, castles, unicorns, etc.

For little boys you can use small cars, dinosaurs, frogs, trucks, balls, bats, shoes, small tool buttons, dogs, stones, keys, etc.

Peek a Boo game ideas-
Ask the child to. . .
Spell a word by finding the letters
Name what you would do with the item and they have to find it. For example, "You would smell it" to find a flower. This works on cognitive skills.
Find the color- "Find something the same color as a ____" is an excellent matching game.
What starts with the letter_________?
What sounds like__?
Make up a simple story like "Mommy got in the car (find the car), and put on her sunglasses (find sunglass) etc."
Come up with some games of your own!